Project Capoeira
Project Capoeira, Inc. is a 501 ©(3) nonprofit organization. The mission of Project Capoeira is to promote intercultural understanding and a sense of community through arts education and social outreach. The organization works to preserve, develop and share Capoeira, a Brazilian art form that combines elements of martial arts, games, music, and dance. Project Capoeira takes a lead role in promoting Brazilian culture in the Philadelphia area.
Project Capoeira is available for assemblies, performances and workshops. Fill out the contact form , or call us at: 215-601-9117
ASCAB Capoeira International School of Philadelphia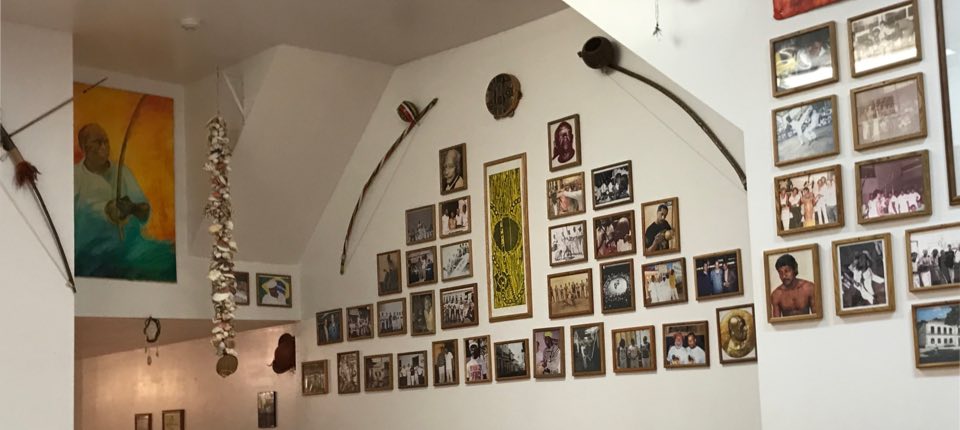 ASCAB Capoeira is located in Center City, Philadelphia, 1 block from Reading Terminal Market and next to the Convention Center. Public transportation is easily accessible. Friendly and safe, the center provides an optimal environment for learning Capoeira. Throughout the year, we offer Capoeira classes, Afro-Brazilian and Samba dance classes, and special workshops with visiting masters. The center is open to everybody and welcomes all races, ages and sexes.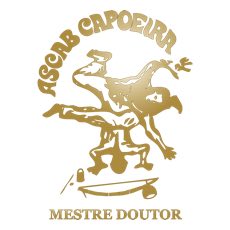 Our commitment is to create a safe, welcoming, non-discriminatory environment to learn, explore, and grow as individuals in broader communities. Arts education for adults and children is offered through Project Capoeira's programming and by working in cooperation with community centers, schools, museums, libraries, camps, and festivals. Project Capoeira's programs are designed to support and follow educational curricular guidelines. Most importantly, the social interaction between students of Capoeira, many of whom come from diverse backgrounds, provides an optimal space for intercultural communication.
Schedule
| Day | Time | Class |
| --- | --- | --- |
| Monday | 5:30-7pm | Beginners |
| | 7-8:30pm | All levels |
| Tuesday | 5:30-6:30pm | Kids (7 and up) |
| | 6:30-8pm | All levels |
| | 8-9:15pm | Beginners |
| Wednesday | 5:30-7pm | Beginners |
| | 7-8:30pm | All levels |
| Thursday | 5:30-6:30pm | Kids (7 and up) |
| | 6:30-8pm | All levels |
| | 8-9:15pm | Beginners |
| Friday | 5:30-6:30pm | Teens |
| | 6:30-8pm | Roda |
| Saturday | 1-2pm | Kids (4-6 years old) |
| | 2-3pm | Kids (7 and up) |
| | 3-4:30pm | All levels |
Private classes are available! Questions? Fill out the contact form below, or call at: 215-601-9117
A Capoeirinha: Kids Class
We offer capoeira classes for kids ages 4 and older. Capoeira is a Brazilian art form that infuses dance, music, gymnastics, martial arts and the Portuguese language. This therapeutic combination of activities makes Capoeira incomparable to other martial arts and afterschool programs. Capoeira promotes both strong physical and emotional health while allowing children to learn respect, courtesy and social skills. Capoeira is inclusive and teaches resiliency.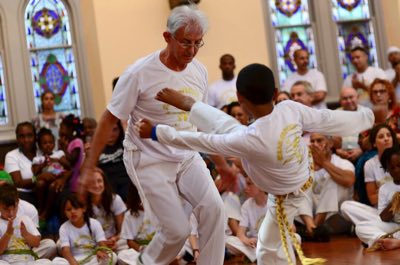 Benefits of capoeira
Coordination
Concentration
Rhythm
Singing and playing of instruments
Secondary language
Acrobatics
Balance
Respect for others
Discipline
Self-defense
Confidence
Self-worth
Capoeira Birthday Parties
Make a birthday special and memorable! This is a great way to introduce children to this fun and energetic Brazilian art. For more information, contact us .
Mestre Doutor
ASCAB Capoeira Group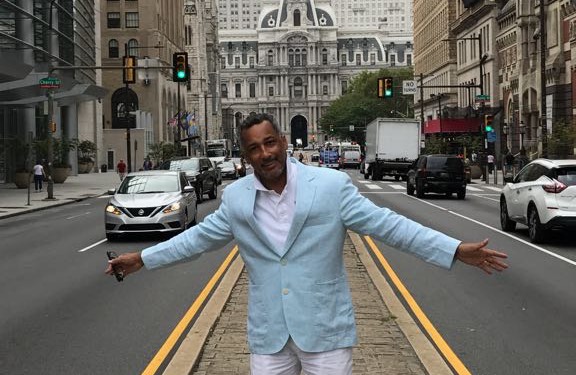 Mestre Doutor (Adenilson Dos Santos) was born in Pernambuco, Recife, Brazil. An early influence on Doutor's Afro-Brazilian roots comes from his upbringing in a spiritual household that was run by his mother, Dona Severina, a mae de santo or mother of saints.
At 13 years old, Doutor tried a capoeira class with Mestre Camarão in Santos, Brazil, and then decided to train with Mestre Bandeira. Mestre Doutor has practiced Capoeira since 1977 and received his mestre's belt after 25 years, becoming the first mestre to teach in Philadelphia. As well as teaching in many universities and earning numerous awards and certifications, he is the founder and artistic director of Project Capoeira, Inc. and the creator of Brazilian Day Philadelphia.
As a result of his outstanding knowledge and achievements, Mestre Doutor was recognized as "a person of extraordinary ability in his field" and granted permanent residency in the US in 2004. His passion and dedication reflects his commitment to the preservation of Afro-Brazilian roots and makes him a strong role model, invaluable teacher and inspirational leader.
Brazilian Day Philadelphia
Part of the PECO Multicultural Series

Organized by Project Capoeira, Brazilian Day Philadelphia celebrates the Brazilian Independence Day. The festival celebrates, promotes, and shares Brazilian arts and culture while fostering intercultural exchange and uniting the Brazilian community. The festival presents a high energy experience with Brazilian arts and culture designed to engage, educate, and inspire participants in the Greater Philadelphia region. In addition, the festival empowers and unifies the Brazilian community by celebrating the diverse ethnic heritage that makes Brazil unique and rich in cultural pride. Brazilian Day Philadelphia has become one of the most popular events in the annual PECO Multicultural Series.
Brazilian Day Philadelphia returns every September to celebrate Brazil's rich culture and traditions. Festival participants can enjoy an abundant variety of authentic foods and merchandise as they watch performers light up the stage with the contagious Brazilian rhythms and dances. The festival will showcase samba, forro, pagode, capoeira, samba-reggae, and more, featuring a unique blend of Brazilian culture.
Brazilian Flag Raising Ceremony

The Brazilian Flag-Raising Ceremony celebrates the anniversary of Brazil's independence. It happens at Philadelphia's City Hall in September and is held by Project Capoeira and Councilman David Oh with the participation of Mayor James Kenney, members of City Council, representatives from the Mayor's Office of Immigrant Affairs and the Consular Corps Association of Philadelphia.
For more information, visit Project Capoeira on Facebook.
PHL Unity Cup
Team Brazil

Visit Team Brazil's Facebook page for the city-wide soccer tournament that uses sports to bring people together and showcase Philadelphia's rich cultural diversity.