Project Capoeira
Project Capoeira, Inc. is a 501 ©(3) nonprofit organization. The mission of Project Capoeira, Inc. is to preserve, develop, and share Capoeira, a Brazilian folk art that combines elements of martial arts, music, dance, and acrobatics. Our activities grow intercultural understanding and a sense of community through arts education and social outreach. The organization uses Capoeira as a vehicle to promote other Brazilian arts and to preserve Brazilian culture in Greater Philadelphia.
Project Capoeira is available for assemblies, performances and workshops. Have accessbility questions? Fill out the contact form , or contact Hannah at: 610-762-7384.
ASCAB Capoeira International School of Philadelphia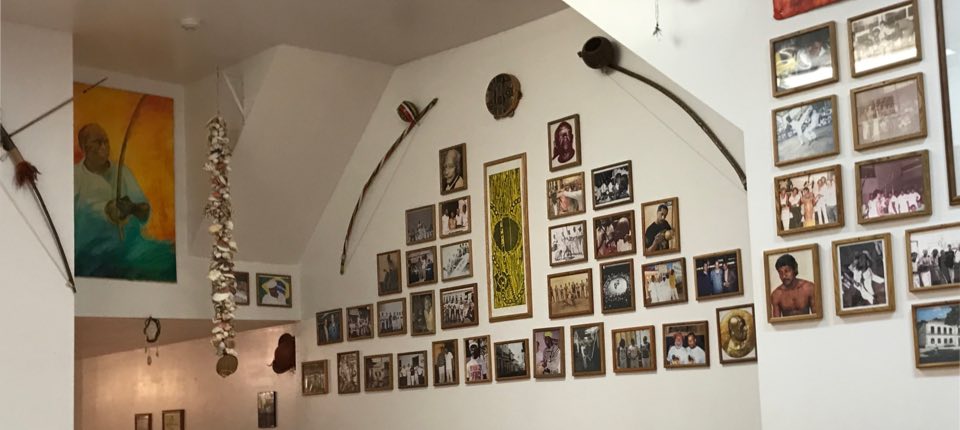 Mestre Doutor and Project Capoeira Welcome You!
ASCAB Capoeira is located in Center City, Philadelphia, 1 block from Reading Terminal Market and next to the Convention Center. Public transportation is easily accessible. Friendly and safe, the center provides an optimal environment for learning Capoeira. Throughout the year, we offer Capoeira classes, Afro-Brazilian dance classes, and special workshops with visiting masters. The center is one of a handful remaining in the United States. It is open to everybody and welcomes all races, ages, and sexes.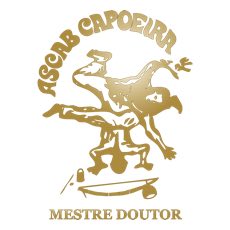 Our commitment is to create a safe, welcoming, non-discriminatory environment to learn, explore, and grow as individuals in broader communities. Arts education for adults and children is offered through Project Capoeira's programming and by working in cooperation with community centers, schools, museums, libraries, and festivals. Project Capoeira's programs support and follow educational curricular guidelines. Importantly, the social interaction between students of Capoeira, many of whom come from diverse backgrounds, provides an optimal space for intercultural communication.
Schedule
| Day | Time | Class |
| --- | --- | --- |
| | | |
| Monday | 6:30-8:00 pm | All levels |
| Tuesday | 6:00-7:30 pm | All levels |
| | | |
| | | |
| Wednesday | 6:30-8:00 pm | All levels with capoeira basics focus |
| | | |
| Thursday | 6:00-7:30 pm | All levels |
| | | |
| Friday | 6:30-8:00 pm | Open gym, kicks, & roda |
| Saturday | 12:20- 1:00 pm | 4- 6 year olds |
| | 1:00- 2:00 pm | 7-12 year olds |
| | 2:00-3:30 pm | All levels |
| | | |
| | | |
Venmo @ASCABCapoeira, CashApp @$ASCABCapoeira
Private classes are available! Questions? Fill out the contact form below, or call at: 610-762-7384
A Capoeirinha: Kids Class
We offer capoeira classes for kids ages 4 and older. Capoeira is a Brazilian art form that infuses dance, music, gymnastics, martial arts and the Portuguese language. This therapeutic combination of activities makes Capoeira incomparable to other martial arts and afterschool programs. Capoeira promotes both strong physical and emotional health while allowing children to learn respect, courtesy and social skills. Capoeira is inclusive and teaches resiliency.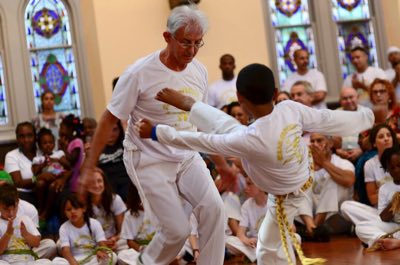 Benefits of capoeira
Coordination
Concentration
Rhythm
Singing and playing of instruments
Secondary language
Acrobatics
Balance
Respect for others
Discipline
Self-defense
Confidence
Self-worth
Capoeira Birthday Parties
Make a birthday special and memorable! This is a great way to introduce children to this fun and energetic Brazilian art. For more information, contact us .
Adenilson Dos Santos / Mestre Doutor
ASCAB Capoeira Group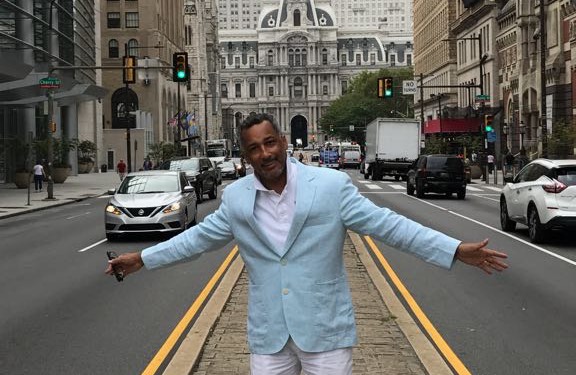 Adenilson Dos Santos dedicates his life to capoeira. This Brazilian martial and folk art is the speciality for which the United States government recognized him as an "Alien with Extraordinary Ability" in 2005, an honor given to 2% of applicants. 
Dos Santos introduced Philadelphia to capoeira in 1997 and incorporated his 501©3, Project Capoeira, in 2001 with a mission to use capoeira as a vehicle to share Brazilian arts with the community. Dos Santos is an authentic culture-keeper and Brazilian arts community leader. He collaborates with local government, community and educational organizations, the consulate, and the public to be a role model for immigrant and arts-practitioners and to share the positive contribution that the Brazilian community creates.
Adenilson Dos Santos guides capoeiristas in 8 countries, 4 continents, and 11 states. Many under his guidance trained in Philadelphia, relocated, and share capoeira with their new communities helping this folk art continue its existence. Dos Santos leads Project Capoeira's cultural center in Philadelphia, Pennsylvania. He advises and travels to teach and guide the capoeira groups, these metaphoric seeds of the folk art, in different communities. 
Dos Santos' efforts with Project Capoeira earned him local, state, and national recognition through grant funding and awards. The National Endowment of the Arts and National Association of Latino Arts and Culture, Hispanics in Philanthropy, Pennsylvania Council on the Arts, Philadelphia Cultural Fund, among others, acknowledge the merit and community contribution of Dos Santos.   
Adenilson Dos Santos founded the United States Capoeira Federation, incorporated on the state-level and which is working on its federal 501c3 status, with the aims to advocate, unify, and validate capoeira within the United States. He is the United States representative in the União das Federações de Americanas de Capoeira or the Capoeira Federation of the Americas, a collection of capoeira master teachers overseeing capoeira federations in different countries.
Dos Santos is a Brazilian native with an African and Indigenous lineage. Capoeira was also created among the Brazilian poor, and heavily influenced by the displaced Africans in Brazil and the Indigneous peoples of Brazil. He comes from a poor family and emigrated to the United States to follow his calling – capoeira. Adenilson Dos Santos uses wisdom, humor, and inter and intrapersonal talents to teach and be a positive role model. His humility reflects in his actions validating his life's mission.
Brazilian Day Philadelphia and Brazilian Night
Part of the PECO Multicultural Series

Organized by Project Capoeira, Brazilian Day Philadelphia celebrates the Brazilian Independence Day. The festival celebrates, promotes, and shares Brazilian arts and culture in the Greater Philadelphia region while fostering intercultural exchange and uniting the Brazilian community. Since 2014, the festival presents a high energy experience with Brazilian arts and culture designed to engage, educate, and inspire participants.
The Brazilian Day Philadelphia Series returns every September. This Brazilian Independence Day celebration includes, a flag ceremony, Capoeira performances and classes, and a variety of other Brazilian arts and cultural events for the public to enjoy.
Brazilian Day Philadelphia 2023 – Sunday, September 3
Located at the Great Plaza at Penn's Landing, 101 S. Columbus Blvd, Philadelphia, PA, 19106 from 1 pm to 7 pm. Join us for Capoeira, Samba, Batucada and a variety of Brazilian music and art performances. The event is free and open to the public.
Brazilian Night at the Oval 2023 – Saturday, August 19
Brazilian Night at the Oval includes performances by Project Capoeira, Acaraje Drums, and a Samba class with Malaika from 5:30 pm to 8:30 pm. A beer garden, food trucks, outdoor area in front of the Philadelphia Museum of Art compliment our yellow/green themed, free event. https://www.phila.gov/the-latest/all-events/?category=The%20Oval%20pop-up%20festival
Brazilian Flag Raising Ceremony

The Brazilian Flag-Raising Ceremony celebrates the anniversary of Brazil's independence. Each year at Philadelphia's City Hall in September, Project Capoeira and the Office of City Representative organize the flag ceremony. The City of Philadelphia and Brazilian community leaders speak followed by a cultural performance. We encourage the public to participate in this celebration.
Flag Ceremony 2023 on September 7
Located at City Hall, North Apron –1400 JFK Blvd., Philadelphia, PA 19107. Ceremony and Capoeira performance @ 3 p.m..
For more information, visit Project Capoeira on Facebook.
Philadelphia Unity Cup: Team Brazil
Team Brazil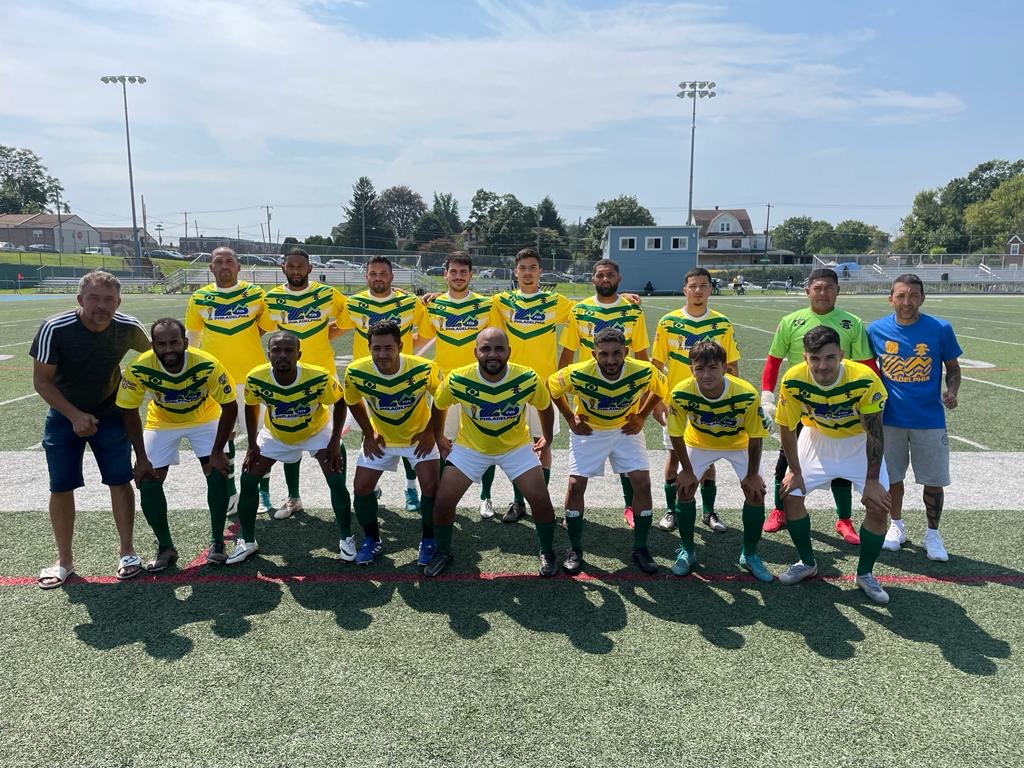 Visit Philadelphia Brazilian National Soccer Team's Facebook page for the city-wide soccer tournament that uses sports to bring people together and showcase Philadelphia's rich cultural diversity. Making friendships through soccer.